Hospital at Home (HaH) is an innovative approach to delivering hospital-level care for an acute condition in the patient's home. The HaH model can help reduce the high overhead and facility costs while improving the patient's experience and relationship with their care team. Despite HaH's seemingly straightforward concept, in practice, HaH must overcome regulatory, legal, and procedural challenges before reaching broad acceptance. Several new startups have partnered with healthcare providers to deploy new technology to streamline HaH's logistics and processes. With each HaH test case uncovering further supporting evidence, overcoming those challenges will help
The concept of Hospital at Home was developed in the mid-1990s by Bruce Leff, MD, a geriatrician and health services researcher at Johns Hopkins University. Johns Hopkins still owns the trademark to the name Hospital at Home. But since then, the model has struggled to take off widely in the US without Medicare's approval. At the same time, the model was introduced and has thrived in the UK, Australia, and the VA since 1994. In 2001 and 2002, researchers at Johns Hopkins found that the HaH model was 32% cheaper and led to a significantly lower incidence of delirium and other complications. 

Hospital At Home: In-Action
Presbyterian Healthcare Services
Presbyterian Healthcare has eight hospitals and thirty clinics in Albuquerque, New Mexico. Presbyterian Healthcare (PH) launched its HaH program in 2008. PH received reimbursement for its HaH program from its health plan, which supports 470,000 Medicare Advantage, Medicaid, and commercially insured members. PH's Medicare Advantage Plan covers 90% of their HaH patients' care. With 13 years of practice, PH is one of the more experienced programs in the country.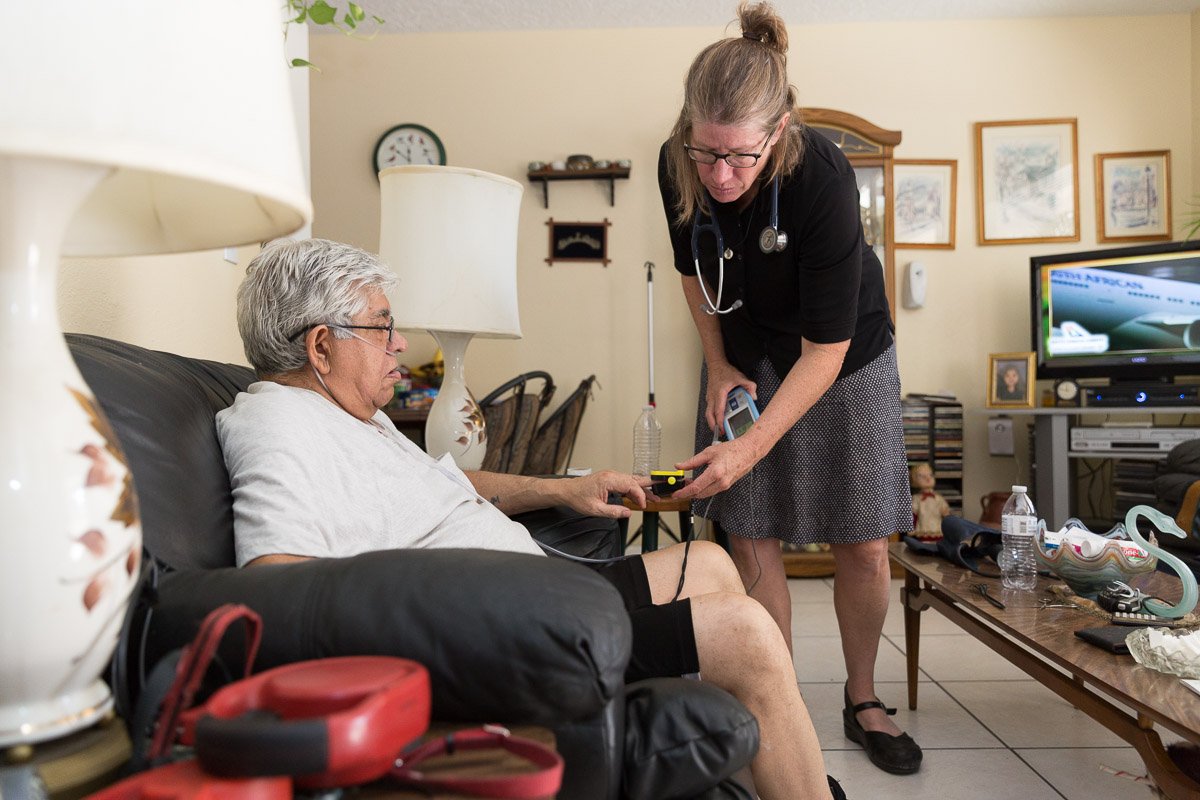 PH's target population initially from referrals within their network. PH staff members verify that the home is suitable and has essential utilities. Staff then determine if the patient is mobile enough to walk and get to their bathroom. Once admitted, they found that patients have a shorter stay of 3.2 days versus the hospital's 3.11 days. Their patients also receive more time with their care team. Physicians, who visit once a day, spend up to an hour with the patient. Nurses often spend up to 2 hours with the patient once or twice a day. And HHAs can spend up to an hour a day in the home. Staff finds that patients are far more comfortable in their homes and are more conversational. And clinicians can see first hand the problems facing patients, like managing medications or maintaining a healthy diet. 
After 13 years of practice, PH's HaH did gain three insights into the model:
They found that finding the right staff can be a challenge. The care team member has to be independent and prepared for the unexpected, especially when they would not have a hospital's unlimited and specialized resources. PH did find it easier to recruit doctors because of the increased time spent with patients.

PH found that for the program to be viable, it would need to be in a larger urban area with a predictable number of patients enrolled. Supporting a full-time team requires five to six consistent patients a day that must be relatively close to one another.

The eligible patients will remain small until HaH is proven permanently reimbursable under fee-for-service.
Vanderbilt University Medical Center

For patients to participate in Vanderbilt University Medical Center's Hospital at Home Program, they must receive approval from a physician. Patient Approval depends on the condition of the patient's home and their medical condition. The program includes in-person check-ins twice a day, remote patient monitoring to transmit their vital signs constantly, and a tablet for engaging with their care team. In addition to the monitoring aspects, their HaH team will coordinate with transportation, food, and equipment departments to streamline logistics. 
Currently, the test will start with five patients but is anticipated to increase. Vanderbilt University Medical Center in February only announced this program, so its long-term outcomes are currently unknown. Due to the small, initial sample size, it will likely require more time to develop their patients' more representative sample size. 



Hackensack Meridian Health
Also launched last month, the Hospital At Home at JFK University Medical Center program will serve Medicare recipients in Edison, New Jersey. Their HaH program intends to select patients based on conditions that result in frequent and costly readmissions to hospitals. Those conditions include uncomplicated congestive heart failure (CHF), pneumonia, COPD, and cellulitis.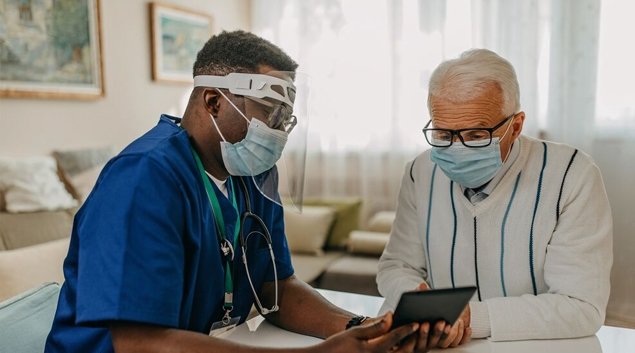 Their initial rollout will only enroll a few patients per week. The services delivered in the home will include the required two nursings visits per day. But it will also include medication delivery (including infusions), rehab visits, and nutritious meal delivery. The HaH system will also include remote patient monitoring of the patients' pulse ox, blood pressure, weight, heart rate, and temperature. Their team hopes to expand this care model to include patients not covered by Medicare and reach those patients in underserved communities.


MyMichigan Health
Since its introduction in February 2021, MyMichigan Health's HaH program has treated 39 COVID-19 patients without any adverse events. After three months, in May 2021, the pilot program was expanded to include those with COPD, pneumonia, and sepsis. These initial diagnoses were typically lower acuity and are non-post surgical care. 
So far, the program has found evidence of higher-quality outcomes with Hospital at Home care. The University of Michigan Health team so far discovered HaH's savings in the patient's travel expenses, reducing transportation barriers to care. But as with the previous savings, these sample sizes are relatively small, and the patient's selection may skew the program's results. 

Hospital at Home: Legal Risks
The widespread adoption of Hospital at Home care brings a new level of liability for hospitals, physicians, caregivers, and patients. For decades, traditional healthcare liability has been prosecuted and argued with resulting precedents and processes to protect providers and patients. With HaH, complicated care would leave the conventional care path; developing new approaches to liability is necessary. The following are only a few problems that could lead to legal limitations on HaH reaching scale without new techniques. 
Physician Liability
When caring for a patient, physicians are required by tort law to provide a certain standard of care. This standard of care varies on which state they practice. But the physician's care must meet the "generally recognized and accepted practices in their profession" or as a "reasonable physician under similar circumstances" would act. Applying these care standards in a HaH context may prove challenging. 
In a traditional setting, the physician would evaluate a patient's symptoms, the care capacity in the hospital, and determine the level of care required. In the HaH context, the physician must consider the patient's home environment, caregiver availability, and other social determinants of health. Additionally, physicians would need to modify established care protocols to include additional time for staff to respond to patients. With the logistics and transportation necessary, it is not clear if the physician would be fully legally responsible if the care team could not respond on time. Especially if the care team was dispatched on schedule, but they encountered traffic or had any other unforeseen delay. 
Comparing the two patient's standards of care, one patient down the hospital hallway and one patient on the other side of town is unclear. With the widespread adoption of telemedicine, many states outlined the standard of care for a virtual versus in-person visit. 


Hospital & Independent Contractor Liability
The second layer of potential liability applies to the hospital. A hospital is responsible for the actions of its employees. Less obvious is that employees could include independent contractors that the patient reasonably believes are employees of the hospital or act with the hospital's authority. 
With the nature of HaH care, the hospital would likely rely on a team of third-party contractors to deliver care. These contractors include a Home Health Aide who administers medication incorrectly or a mobile x-ray tech that captures the incorrect images. The third party's expertise may vary, but with the coordination required for HaH care, the patient's perspective likely would equate them as all employed by the hospital. Many states have enacted laws to protect contractors, but they only apply to emergency care. To protect themselves from liability, hospitals clearly define and state which members of the patient's HaH team are employees and which ones are not. 

Caregiver Liability
The unpaid family caregiver may have to defend themselves from breach of duty with the shared caregiving responsibility. A hospital could potentially protect itself from liability by arguing that the unpaid caregiver failed to contact the hospital quickly. To avoid future disagreements, the hospital could proactively present caregiving best practices. They could further ensure compliance through additional training and respite services. While at the same time, the hospital and caregiver clearly define and articulate the role's responsibilities. This presents another legal challenge. The hospital cannot attempt to control the caregiver too much. That could give the caregiver the impression that they have the authority to act on behalf of the hospital, imparting more liability. 
Medical Device Manufacturer Liability
The Hospital at Home model is based on synchronous and asynchronous monitoring of patients remotely. If any of those devices are defective or are incorrectly used, manufacturers could face liability. User agreements and contracts could transfer or reduce the manufacturer's liability. But the hospital has a responsibility to develop protocols to identify device failures, safety assessments, and supply chain support for replacement or substitute systems. Building these procedures may add additional costs and risks to the healthcare provider's HaH program. 
Risk of Discrimination 
It is the responsibility of the health care provider to determine if the proposed HaH venue poses a risk to the patient or the patient's care team. Determining the safety and well-being of all involved may pose complicated ethical questions for hospitals. Hospitals may have concerns about delivering HaH services in some high-crime regions. The hospital must balance providing accessible health care and socioeconomic or racial bias. To foster an inclusive culture, the hospital's HaH care team must utilize a diverse and multi-disciplinary team when developing their HaH program. All reporting and governance of the program should include reports of those in the program's age, race, gender, and income. 


Reimbursement Uncertainty
The primary obstacle to healthcare providers making significant investments in Hospital at Home care options is financial uncertainty. CMS did not authorize Medicare or Medicaid reimbursements for HaH care in the past. The HaH model was limited to those in the Medicare Advantage program or enrolled in private insurance. That changed at the onset of the pandemic. CMS used its emergency authority to waive those restrictions in March 2020. The Hospitals without Walls program gave providers the option to provide care outside of their facilities.  
At the time, CMS was exploring strategies to manage the influx of patients and reduce crowded hospitals with limited inpatient beds. The emergency action was followed later with the Acute Hospital Care at Home waiver program. The waiver program authorized Medicare-certified hospitals to treat patients with inpatient care at home for over sixty conditions. Those conditions included asthma, congestive heart failure, and pneumonia. Since November 2020, CMS has approved 201 hospitals from 91 health systems to receive HaH reimbursements.
These emergency actions are scheduled to expire on April 16th. CMS then can either renew the program for another 90 days, or CMS will provide a 60-day notice before stopping HaH reimbursements. Those who currently offer HaH care may hesitate to make additional investments within this time frame. And for those who haven't started developing, HaH care will surely await future regulatory developments. 
For CMS waiver approval, healthcare providers must provide or contract the following services:
• Pharmacy
• Infusion
• Respiratory care including oxygen delivery
• Diagnostics (labs, radiology)
• Monitoring with at least two sets of patient vitals daily
• Transportation
• Food services including meal availability as needed by the patient
• Durable Medical Equipment
• Physical, Occupational, and Speech Therapy
• Social work and care coordination
At least one daily visit from an MD or advanced practice providers like a nurse practitioner or physician assistant. This appointment can be remote after an initial in-person exam at the hospital or ED.
At least two-in person daily visits by an RN or a Mobile Integrated Healthcare Community Paramedicine (MIH/CP). (The MIH/CP utilizes EMS personnel to deliver acute medical care in the community.)
And an immediate, on-demand remote audio connection with a team member who can connect the patient to the appropriate MD or RN.
In-home emergency personnel must respond to the patient's home within 30 minutes
Nursing Opposition
The Nursing at Home model does have opponents. The National Nurses United Union is strongly opposed to introducing Kaiser Permanente's new Advance Care at Home program. The union's members are "horrified by Kaiser's attempts to redefine what constitutes a hospital and what counts as nursing care." The union is concerned about HaH transferring additional care and responsibilities to family members or less experienced caregivers. The union argues that by providing care in the traditional hospital, they can offer a "single standard of direct, quality care for all patients." 
The group does highlight several of HaH's fundamental shortcomings previously discussed. But with the unique skills necessary to deliver care outside of the hospital, HaH providers will rely on a smaller percentage of potential hires. If the National Nurses United's view is shared with all of its 150,000 members and those not members of the union, the rate of available staff will grow smaller. This limited staff supply puts HaH providers in a difficult position common throughout healthcare, recruiting and retaining experienced staff. 
Leading HaH Companies
Medically Home
Founded in 2016, Medically Home has received support from several of the largest and most prestigious healthcare industry leaders. The Boston-based platform offers the platform and technology for clinicians to work remotely with patients in their homes. Their care includes an around-the-clock medical command center staffed by doctors and nurses. But highlighting an often overlooked aspect of HaH, Medically Home's CEO Rami Karjian has a healthcare logistics background. Their approach remains focused on ensuring the patients have access to all necessary devices, medications, and services.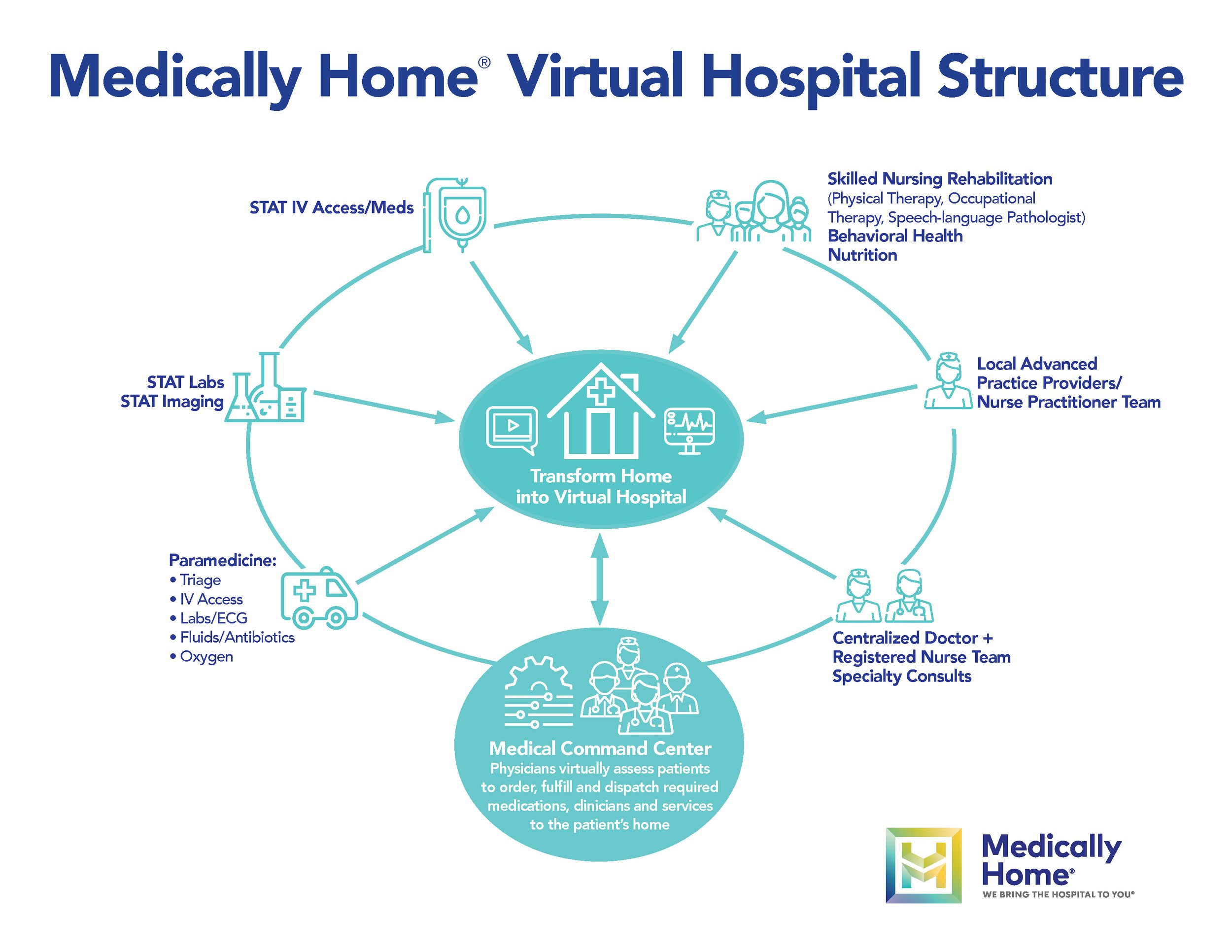 This approach has paid off. Earlier this year, Medically Home received a $110 million investment from the Mayo Clinic, Kaiser Permanente, Cardinal Health, Global Medical Response, a medical transportation company, and Baxter International, a provider of products to treat kidney disease. This round's group of investors brings together leaders in all aspects of the HaH model. If Medically Home can combine their investors' care delivery, transportation, and logistics expertise, they will surely lead in this growing market. 
As of last month, Medically Home has treated 7,000 patients, and through these strategic partnerships, they should have no problem growing rapidly. Medically Home has discharged more than 300 of the Mayo Clinic's patients. They found that patients had reduced readmission rates, extraordinarily low complication rates, and much higher satisfaction among patients and their families. In January, Peoria, Illinois-based OSF Healthcare agreed to use Medically Home to develop their HaH program. OSF's care network includes over 250 locations with 15 hospitals and 45 urgent cares throughout Illinois and Michigan.  
Cadence
Cadence is a fast-growing remote patient monitoring and virtual care service, provider. Cadence's platform helps patients remotely manage their chronic conditions like heart failure, COPD, and type 2 diabetes. Their system monitors the patient's vitals and offers personalized feedback via text and telehealth appointments. The patient's data is collected and synthesized by their machine learning application, Care in Sync. 
Last August, Cadence announced a new partnership with LifePoint Health. Once the collaboration is fully realized, Cadence will provide remote care to over 100,000 patients living with chronic conditions across the US. Cadence and LifePoint initially are focused on increasing compliance to Guideline Directed Medical Therapy (GDMT) in rural communities. GDMT is a treatment for heart failure patients. 
After forming and emerging from stealth within the last two years, Cadence's co-founders, Christopher Altchek and Kareem Zaki earned a $100 million Series B fundraising round last December. That round put their pre-money valuation at $900 million and helped Cadence make a value of more than $1 billion and the title of 'unicorn'. 
Cadence and their major partnership are still young. But it has significant backing and support from General Catalyst, Thrive Capital, and Coatue. In addition, their founding team and board of directors includes a collection of experienced clinicians, healthcare professionals, and technologists. 
Biofourmis
Biofourmis a Boston-based digital therapeutics and virtual care provider. Biofourmis' technology ecosystem is an end-to-end solution to monitor patients from acute to chronic diagnoses. Their technology uses an FDA-cleared Biovitals Analytics Engine. The analytics agent compares the HaH patient's physical data to population-level data to uncover insights. 
In addition to the Analytics Engine, BioFourmis' ecosystem includes the Biovitals Index, Patient Companion App, and Clinician Dashboard App. The Biovitals Index develops a baseline for each HaH patient's analysis. This baseline helps care teams make earlier interventions and notify them of significant changes. The Patient Companion App helps keep the patient informed and encourages compliance. The Clinician Dashboard helps providers track billing workflows and integrates with EHRs. 
Last month, BioFourmis introduced a chronic condition management service called BioFourmis care. The program will support diabetes, hypertension, arterial fibrillation, and lipid management. This push will help Biofourmis assist patients throughout their entire care continuum, from acute care and post-discharge patients. 
The artificial intelligence platform has raised $143.6 million in three rounds. Its most recent valuation of $650 million. With prominent investments from Sequoia Capital and the SoftBank Vision Fund. Biofourmis acquired Gaido Health after their Series C, an oncology-focused digital tool. This new tool will help Biofourmis develop the processes necessary to enter the cancer care space. Last month, Biofourmis signed a multi-year deal to power Orange, California's UCI hospital at home initiative. 



Biointellisense
BioIntelliSense's FDA-cleared BioSticker provides healthcare providers with constant data. This continuous data flow can act as a supplement for data-driven hospital-at-home care. Designed to catch patients' symptoms and help identify trends early, the BioSticker encourages more successful interventions. Thie BioSticker's simple, band-aid-like design can monitor a long list of physiological data points like heart rate or respiratory rate. At the same time, it can also monitor body position, activity levels, gait analysis, and sleep tracking.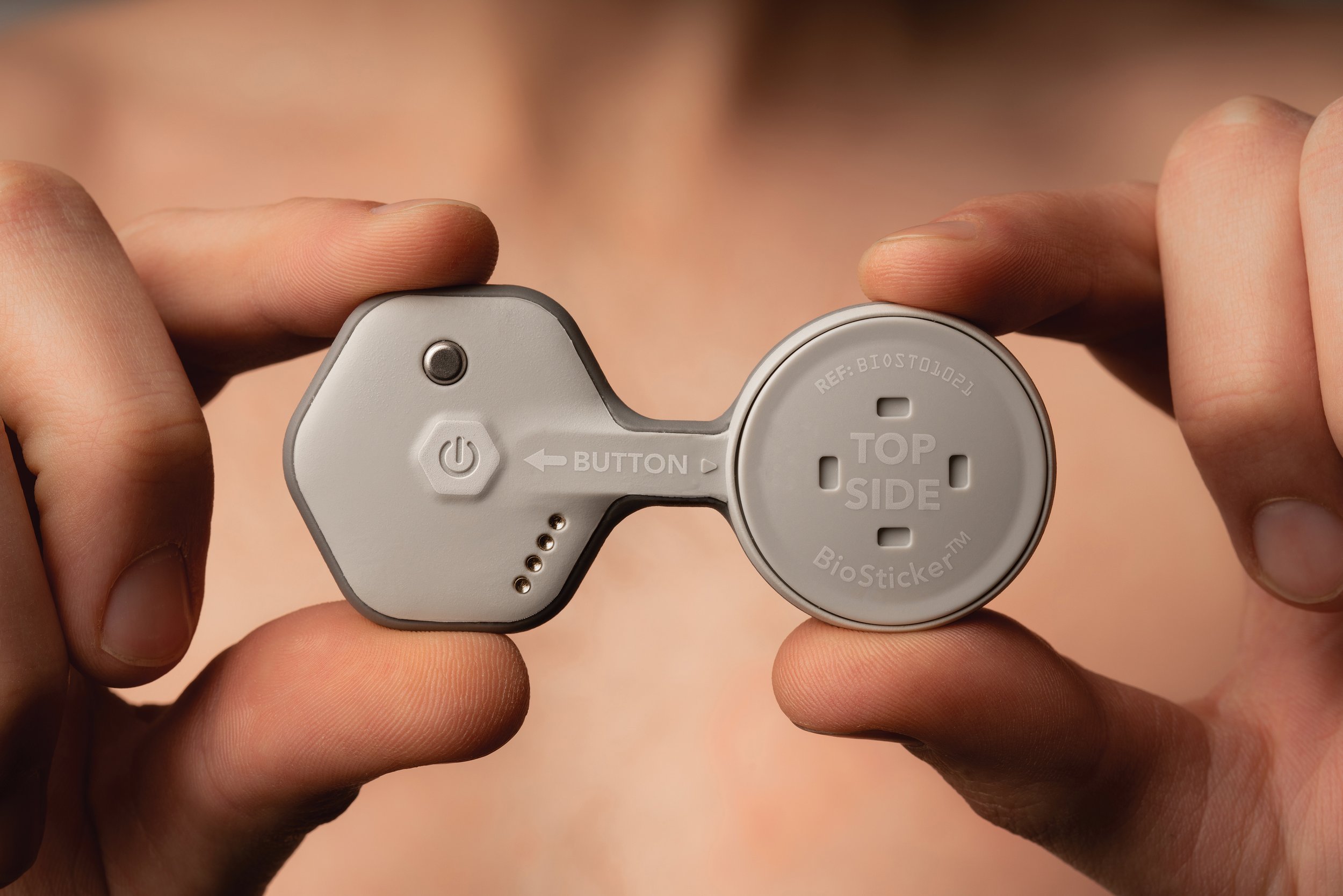 Its stick it on and forget it style patient experience is a scalable and cost-effective solution for Hospital at Home programs or COVID-19 symptom monitoring. BioIntellisense's BioButton similarity can be discreetly worn on the upper left chest, and its single-use design lasts for 30 days of monitoring. The BioSticker and BioButton's straightforward approach encourages increased compliance and can act as a component in a broader remote patient monitoring strategy. Clinicians and caregivers can have increased confidence in having a complete picture of each patient's vitals and characteristics. 
BioIntelliSense has partnered recently with several healthcare technology companies like CareAngel, Joerns Healthcare, Jasper Health, and Myia. They have also partnered with healthcare providers like Renown, a network of hospitals and care facilities serving over one million people in Nevada and Northeast California. BioIntelliSense also partnered with the UCHealth system to help reduce their health care costs, improve patient safety and deliver improved care. Last July, BioIntelliSense received $45 million in their Series B with this recent success. 

The Future of HaH
As of March 4th, 92 health systems and 203 hospitals in 34 states have participated in the Acute Hospital Care at Home Program. But as of this month, the CMS's special COVID-19 emergency waiver is expected to expire on April 16th. Last week, four bi-partisan Senators introduced the "Hospital Inpatient Services Modernization Act" to extend CMS coverage. The future of this legislation is difficult to predict. But with major HaH care providers like the Mayo Clinic and Kaiser Permanente likely lobbying on its behalf, its fortunes are promising.
One only has to look at the acceptance and rapid adoption of telemedicine to understand the changing landscape of healthcare delivery. HaH is the next step in providers improving the experience of care, improving the health of populations, and reducing the costs of health care per patient. HaH does have many legal, financial, staffing obstacles to overcome. But without further assessment and analysis, HaH's impact will remain limited. With further advancements in technology, logistics, and operations, many can receive additional self-determination about where they choose to receive care.