Technology has the power to change every facet and period of our lives, particularly when we begin to age. Applying technology to the aging process can increase convenience, quality of life, and quality of care. 
Creating new products for older adults and exploring new approaches to help solve the problems older adults face is challenging. This challenge is due to the specialized knowledge, experience, and perspective of those participating in the aging economy. 
Entrepreneurs, technologists, gerontologists, caregivers, and patients all have a very different idea of what aging means and how they can help. These silos of expertise and experience unintentionally create shortcomings in products geared towards older adults. This frequent disconnect between creator and the end-user has created a once in a lifetime opportunity for organizations that get it right. 
To facilitate communication and improve understanding between developers and older adults, new groups, competitions, and innovation spaces are being created to ignite collaboration and giving those in the aging economy the proper venue and push to cross-pollinate across outside of their sector and world view. 



The Problem: Misconceptions & Myths
Caregivers, patients, and their families have a clear picture of what the aging economy has to offer. Every day they see and feel the limitations of the available products and services. While entrepreneurs working on improved service models and developing new products often have a different picture of what the aging economy entails. In the past, the misconception would lead to a focus primarily on an older adult's health and safety overlooking the other important facets of their lives. 
Joseph Coughlin, founder, and director of MIT's Age Lab and author of the Longevity Economy described this misconception with the metaphor of a business marketing product for teenagers; all "they could come up with were acne creams and crutches for when teens injure themselves performing ill-considered stunts." This approach is difficult to overcome, particularly when many entrepreneurs have limited first-hand experience with the wants and needs of older adults. 
The creativity, planning, and decisions around finding solutions for the aging population are rooted in a familiar social construct of old age. This incorrect social construct perpetuates that older adults are a problem that society needs to fix. For technology to have any real impact, service providers, caregivers, older adults, and entrepreneurs must commit to a new approach. 

The Solution: Collaboration 
Working, discussing, and creating outside of a traditional silo is essential. Several organizations have developed new initiatives to make this mission happen. Louisville Kentucky's Thrive Center is bringing together aging tech into a multi-purpose demonstration, testing, and evaluation space. Aging2.0 is creating cross-category conversations around the world at their chapter meetups. AARP's new cutting-edge incubator, The Hatchery, is searching for the next breakthrough through its national startup competitions. 



Thrive Center 
Founded in November 2017, Louisville's non-profit Thrive Center is quickly asserting its influence in the aging economy.  The Thrive Center's mission is to improve the quality of life and care for the elderly. The 7,400 square foot spaces bring industry leaders together with the aging population for panels, lectures, immersive educational installations, and product testing. 
Sheri Rose, the Thrive Center's CEO and executive director, "we want to be a hub of innovation focused on aging care and bring in senior care providers who are looking to adopt the technology, but also seniors who are ultimately impacted by the technology innovation." 
Thrive's goal has been made easier with generous donations of high-tech IT infrastructure from CDW Healthcare, computers from Lenovo, Humanscale furniture, and Samsung smart home tools. The Thrive Center also doubles as a live, template for visiting senior care providers who are planning to modernize their facilities.  
Thrive's CEO is planning a new theme or focus every year. Their first theme centered on dementia and memory care. Rose presented several products to improve the lives of dementia patients and their caregivers. These products included: Piper, a remote monitoring system, Samsung's virtual reality technology, and the SingFit app.  



Piper
Piper has developed a suite of sensors and video monitoring systems that help facilities and families prevent wandering. Keeping track of a patient has never been easier. Caregivers can receive essential notifications remotely.  While at the same time they can check in on a resident visually and through Piper's intercom system. 
The developments in wireless monitoring and the internet of things have freed caregivers to ensure that their residents are safe. Piper's sensors can even remotely monitor if the residents are eating correctly and whether they have visited the bathroom. This power can increase a facility's coverage, allow them to watch multiple residents at a time, and handle other tasks around the facility without endangering residents. A family caregiver can monitor their loved one while at work, the grocery store, or states away. 
Piper's system helps increases a facility's anti-wandering capacity and allows family caregivers flexibility in their day. All care providers can benefit from this practical and affordable technology. However, with any new or cutting edge technology, it does help to be able to put your hands on it and see its abilities up close. Visitors to the Thrive Center can test the Piper system and see it in action in the center's demonstration space.



Samsung
Samsung Virtual Reality headsets are also available for visitors to test. These immersive experiences have been found to help patients deal with dementia and to manage their anxiety.
When a patient with dementia is upset or anxious, often they display compulsive actions.  Attempts to interrupt these compulsive behaviors are often challenging and will increase their anxiety.  Virtual reality has been proven as a powerful distraction technique breaking the compulsive cycle.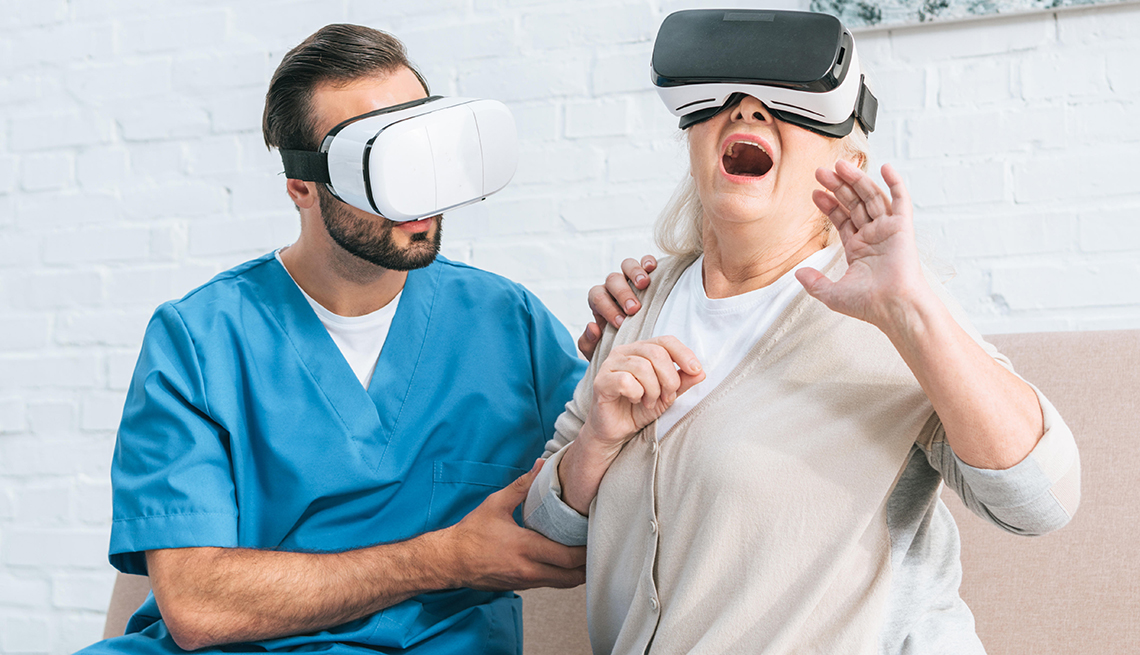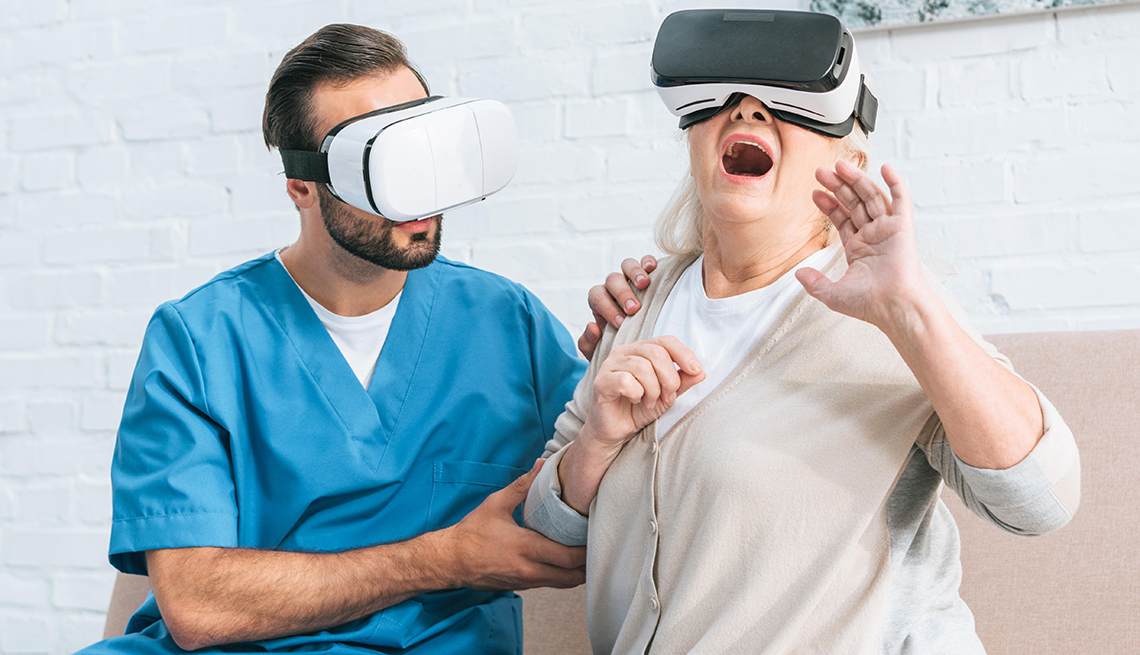 VR also has the power to help a resident with limited mobility or cognitive ability to venture outside of their facility. They can visit calming locations or even places from their past. The option to get out and explore can help all older adults overcome isolation and loneliness. These feelings loneliness have a direct connection with depression and its associated health hazards. The application of virtual reality in this space has enormous potential.  
Reducing stress and depression offers the opportunity for patients to live healthier and happier lives. VR is beginning to gain traction in memory care and aging services. Testing VR out firsthand at the Thrive Center is a step towards a more thorough understanding and adoption of this technology. 
SingFit
SingFit is a fun and interactive app for those with dementia or cognitive delays. SingFit lets users sing along with, record and share their renditions of their favorite songs. The customizable app allows the user to control every part of the song to ensure they can follow the lyrics.  Singing or following along with an old favorite by themselves or with a group can stimulate their brain and have fun. Andy Tubman, a music therapist and expert on music's effect on the mind, developed SingFit as a fun form of therapy. 
SingFit's customizable controls incorporate evidence-based research into the app and programs. Tubman has also produced an accompanying suite of supportive services that make bringing SingFit into a nursing home, apartment, or community center easy.  PJ Kosi, Life Enrichment Director at Aegis Callahan House, described the joy that it has brought to their residents "after our Mardi Gras party, we transitioned right into a spontaneous SingFit session.
Residents and their families were dancing and singing – everyone was having an amazing time." Visitors to the Thrive Center may not have been even aware of SingFit. However, after having the opportunity to try the app and explore its programs, families, and care providers have a whole new avenue of interactive fun to explore. 
This upcoming year Sheri Rose, CEO and Managing Director of The Thrive Center,  is planning the Thrive Center's transition towards focusing on caregiving and caregiver support. Rose already has plans to use technologies to help reduce the caregiver's burden and generate deep empathy. "We're going to set up labs where professional caregivers or caregivers at home will be able to walk through and see what it's like through the eyes of someone with Alzheimer's disease."
It is very exciting to see these new technologies receive a new and in-person audience. Having a center dedicated to innovation in aging tech is invaluable for Louisville. Hopefully, the Thrive Center's model will continue to find success and will spread to other cities and regions.  
Collaborative Conversations
Aging2.0 has created the world's leading international network of aging innovators. Made up of 40,000 members in over 20 countries, Aging2.0 works to bring the right people together to think differently about aging.
Its intergenerational, international and interdisciplinary members come from different backgrounds to plan the future of aging. Teams organize regular meetups varying from coffee and bagels to hosting informative panel discussions. Undertaking this broad issue takes focus.
Aging 2.0 has defined its efforts into eight grand challenges: 
Under each grand challenge, chapters have partnered with established companies, startups and non-profits to find solutions. Many times the companies that compete in an event or contribute to Aging2.0 come from diverse industries and are often specialized in a niche aging-related issue. A senior care facility manager and an app developer may discuss ways that an I-pad app could help make managing their facility easy.  
Many Aging2.0 chapters are beginning to gain momentum in their community. Helping the chapters earn the attention and time of busy local decision-makers. Even those who have spent their careers in a particular sector may find Aging2.0's collaborative purpose unnecessary. These experienced professionals are participating in a flawed perspective like those who fail to see older adult's needs beyond the "old people" social construct.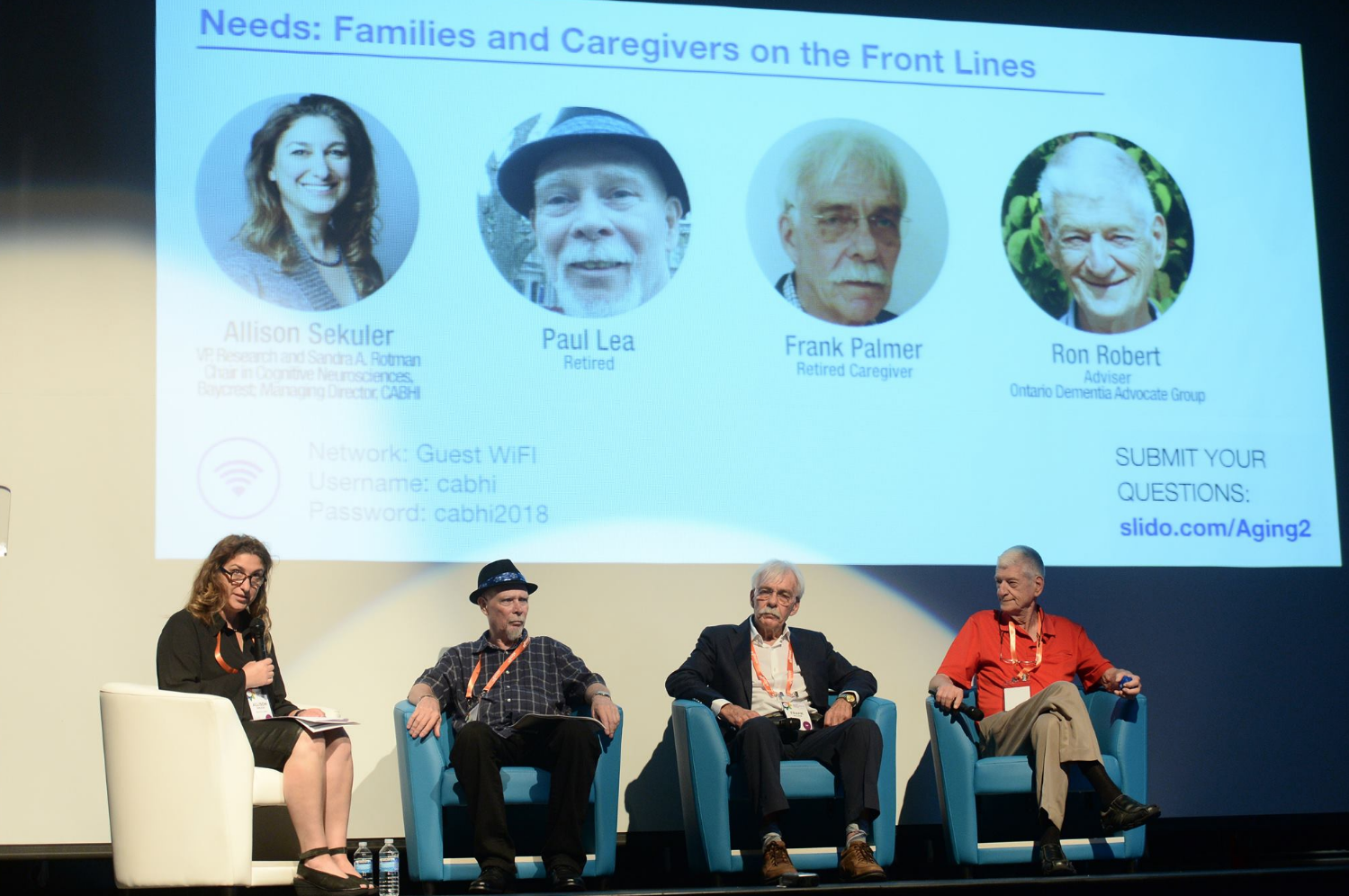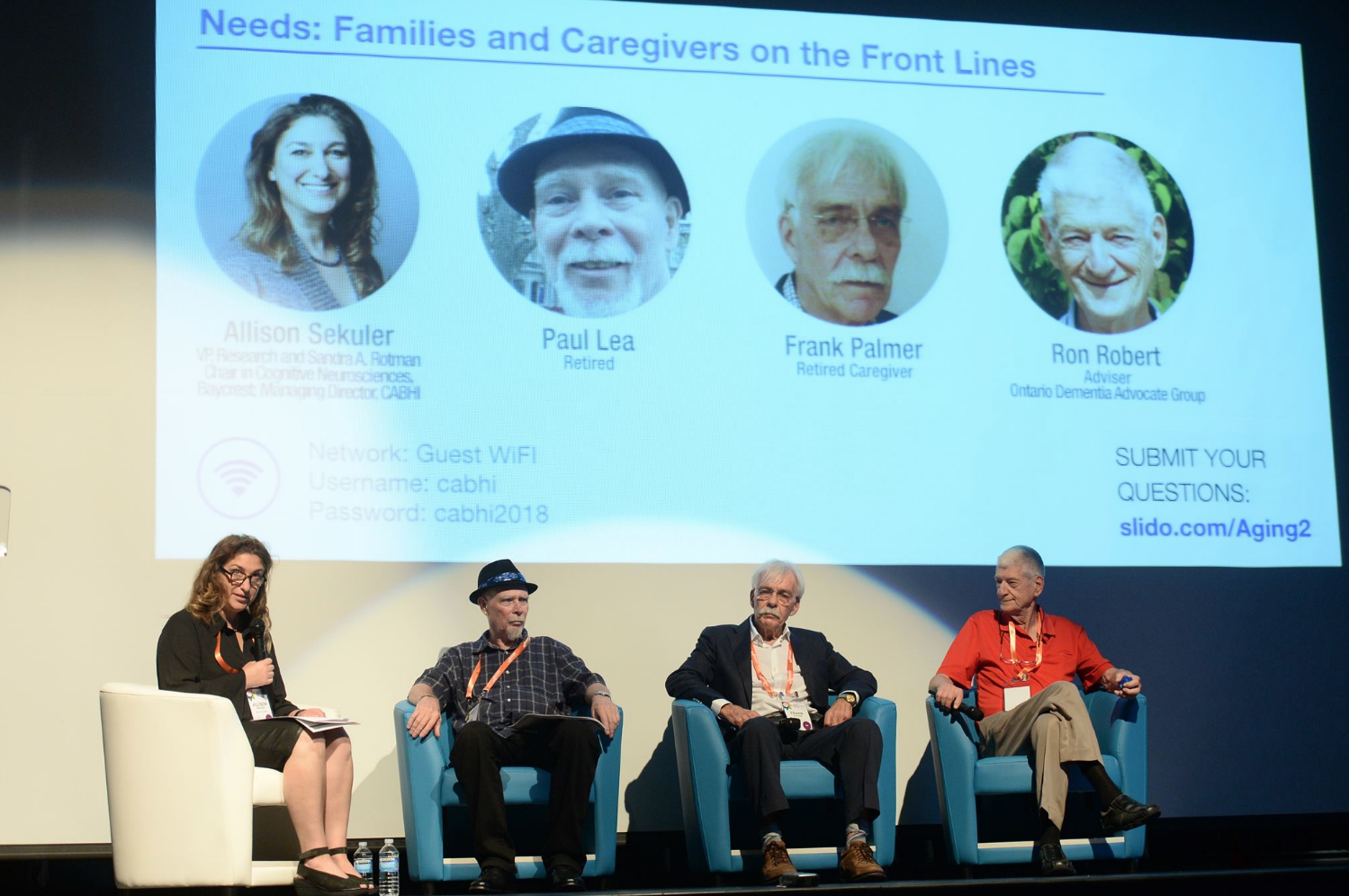 Breaking free from established thinking requires breaking free from established networking channels. If we are going to see older adults as full human beings with a wide range of needs, the aging economy needs to incorporate all possibilities and perspectives to service this population. This is an exciting opportunity for the tech community to learn from the experiences of all participants in the aging economy.  
AARP - The Hatchery & Pitch Contest 
AARP is one of the leaders pushing for innovation and investment in this area. Long established as the preeminent public interest group for "retired persons." AARP, now with 38 million members, is working to change this perception and make AARP an innovation leader. Their push into new areas led them in 2016 to open their very own innovation lab called The Hatchery.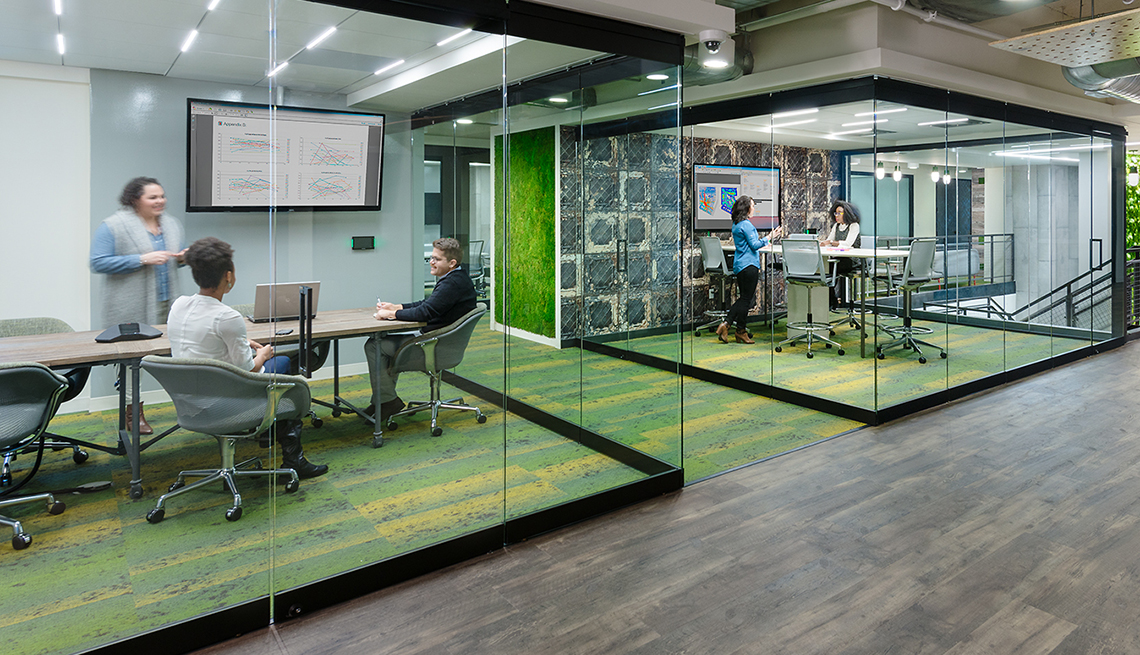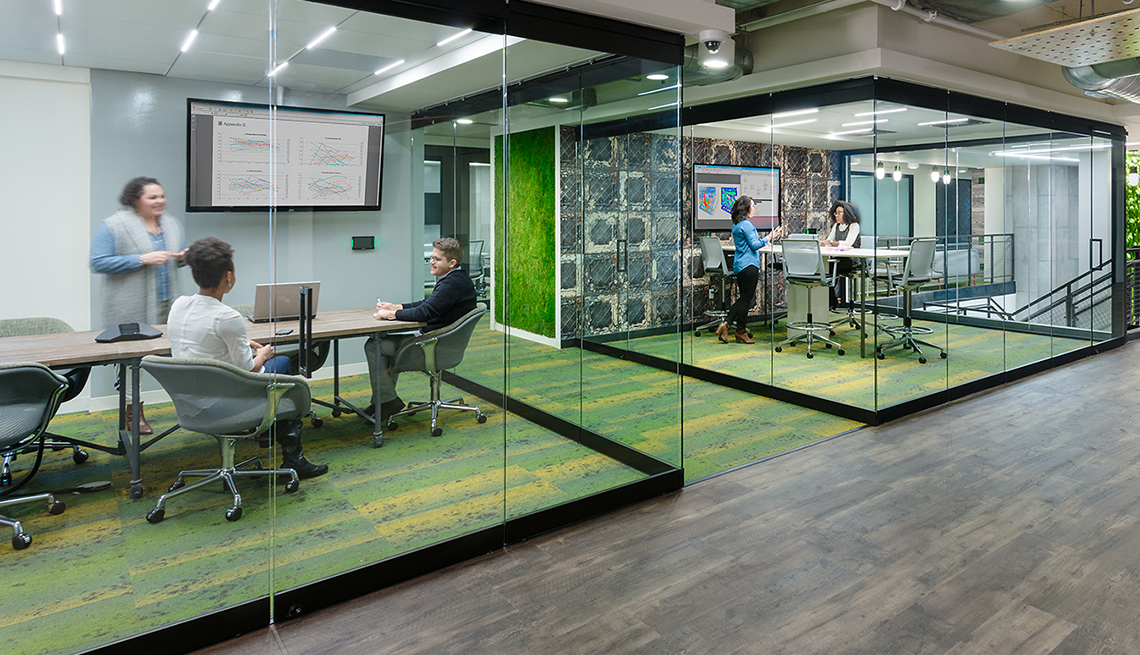 The Hatchery is a cutting-edge, 10,000 square foot innovation lab that provides startups a venue to develop and test their big ideas. Its incubator accelerator style program offers new, and growing startups access to experts and potential customers.
They are exploring solutions to challenges older adults face with their health, wealth, and self. The Hatchery's open office layout also acts as a venue for meetups and special events to connect aging entrepreneurs. The Hatchery's most recent special occasion was their inaugural It's Never too Late Grand Pitch contest.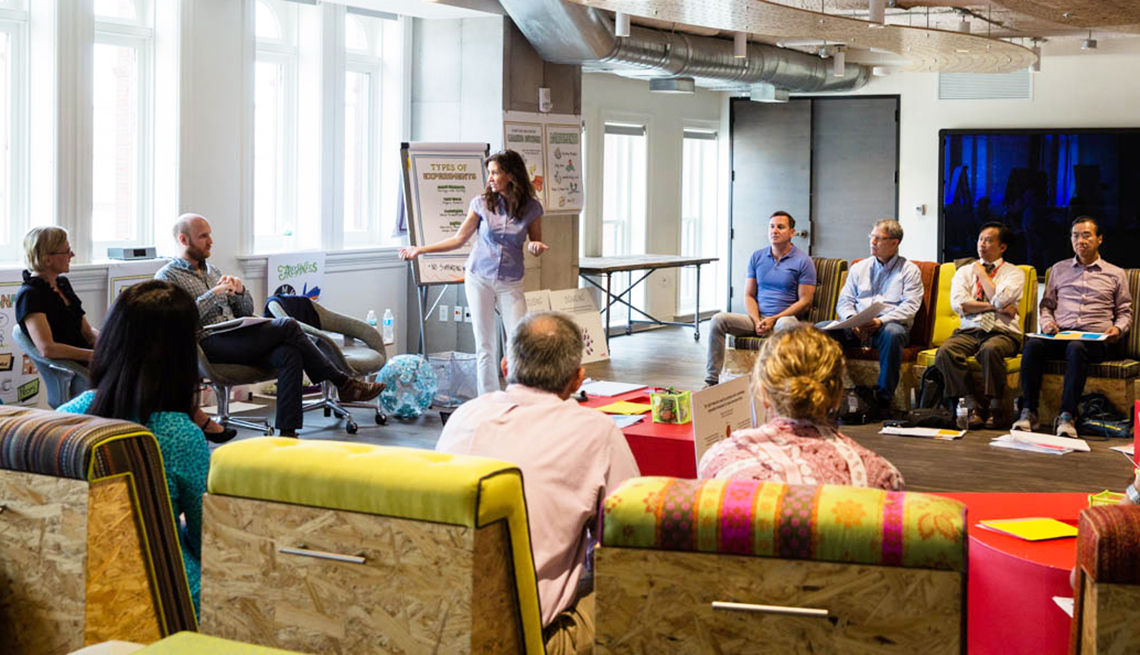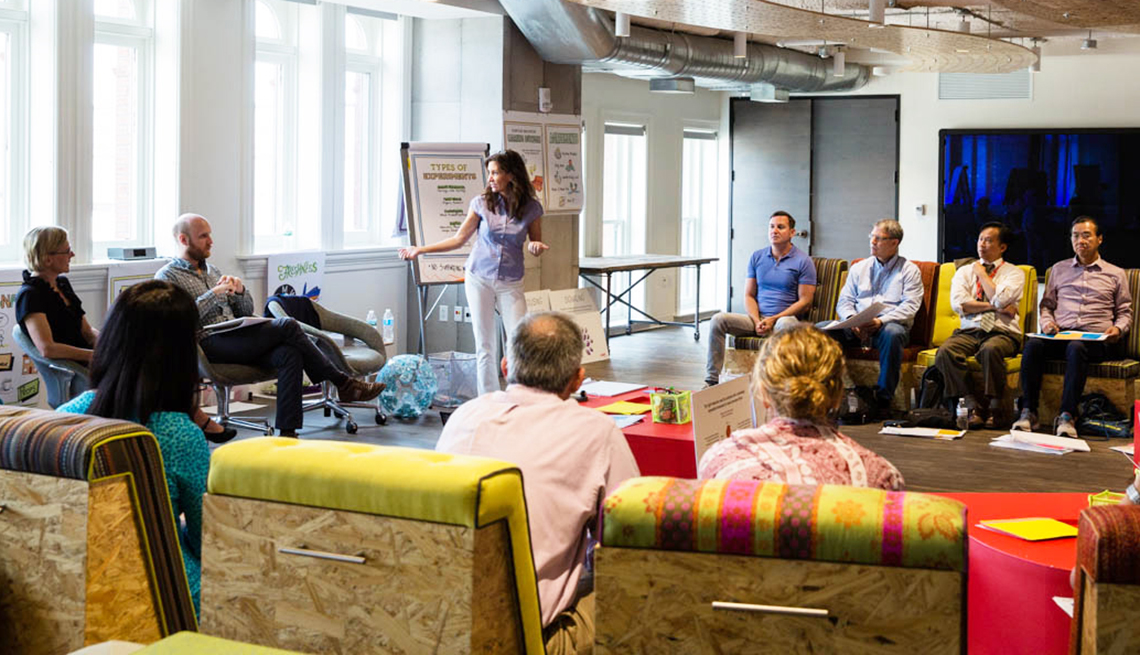 The competition brought together innovators ready to face off head to head. The eight finalist's pitches covered a dynamic range of specialties from personal finance, communication, robotics, and personal care.  
Finally, the audience voted to decide which business plan will help shape the future of aging most. The three winners were Zogo Finance in third place, Tech.Ur.Elders in second and Embodied Labs took first. These companies are bringing new ideas and new perspectives to aging technology. 


Zogo Finance
Zogo Finance has created a unique mobile banking application that primarily creates a clear financial relationship between parents and their teens. The app includes features to help teach teens responsible spending and personal finance. This financial coaching app can also be used by a grandparent to manage the money they give to their grandchildren.
Instead of just giving grandkids money, they now can give them financial knowledge and responsibility: an exciting application of straightforward financial technology to the often-overlooked grandparent, grandchild relationship. They are imparting fiscal wisdom to a younger generation rather than a trip to the toy store. 


Tech.Ur.Elders
The second-place finisher, Tech.Ur.Elders brings the right assistive technology to older adults in their home. Their AI-enabled platform help caregivers find the right technology for their aging loved ones.
Unpaid or family caregivers are often overwhelmed by their careers and other responsibilities. Even when there is a distance involved, unpaid caregivers contribute time and resources daily. Finding the right technology to help your loved one's specific needs can be time-consuming. Tech.ur.elder provides a service to help find the right solutions even when they are a long-distance caregiver. 


Embodied Labs
The contests first place finisher, Embodied Labs, has developed an immersive VR-enabled learning system for caregivers. Available to professional and unpaid caregivers, their VR system allows one to gain perspective on what it is honestly like to have a disease or an impairment.
This powerful technology's scenarios include embodying a patient nearing the end of life, a patient progressing through Alzheimer's Disease, and as an older adult with increasing general macular degeneration and hearing loss. Each part of these scenarios will demonstrate essential topics, and challenges caregivers should be aware of. Learning and understanding these situations from the actual perspective of the patient is priceless. 
 Pitch contests, hackathons, and other similar events bring together different sectors to celebrate new ideas. It also offers an opportunity for entrepreneurs to receive productive feedback and hopefully funding for their project.