The Mediterranean eating plan is a heart-healthy eating plan focused on the typical foods and recipes of Mediterranean-style cooking. 
Researchers from the Mayo Clinic, found that more than 1.5 million healthy adults demonstrated that incorporating a Mediterranean diet led to a reduced incidence of Alzheimer's and Parkinson's diseases.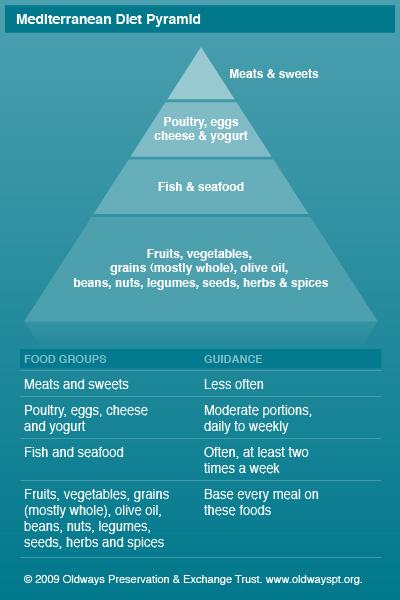 Eating primarily plant-based foods, such as fruits and vegetables, whole grains, legumes and nuts
Replacing butter with healthy fats, such as olive oil
Using herbs and spices instead of salt to flavor foods
Limiting red meat to no more than a few times a month
Eating fish and poultry at least twice a week
Drinking red wine in moderation (optional)
Following the Greek's example, enjoy six or more servings a day of antioxidant-rich fruits and vegetables.
Grains in this region are also typically whole grain. Whole grains contain very few unhealthy trans fats. But, be sure to avoid butter or margarine on your whole grain bread. Those toppings are full of trans or saturated fats. Stick to eating it Mediterranean style, plain or dipping it into olive oil!
Also, nuts are a very important component of the Mediterranean diet. Nuts are high in healthy fats. But they are also high in calories, so it is recommended to enjoy no more than a handful a day. And remember to avoid salted, honey-roasted, or candied nuts. For the best nutritional value enjoy them plain.